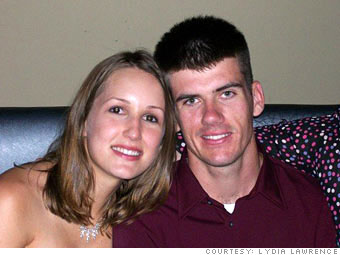 Newlyweds Lydia and Andrew Lawrence have adjusted their spending, but are still feeling squeezed.
Community theater administrator, 25, Charleston, S.C.
My husband and I got married in June of 2007 and have been enjoying our first year of wedded bliss. But the gas crunch has really put a damper on things.
We have cut back on our nights out and eating meals out is a rare luxury. Living in a town like Charleston, it's tough to resist those wonderful restaurants.
To bring in more money, I took a weekend job at the mall. It helps us to get clothes at a reasonable price. But of course, I sacrifice my weekends to stand on my feet all day.
We've worked around the gas crunch as best we can. I approached my boss about the expense of driving to work and she's allowing me to work from home one or two days a week to save money. Even then it's still a lot to fill up.
Trips to the beach and visiting college friends are pretty much out of the question. The gas crisis is not only draining our wallets, but sucking the joy out of our 20s as well.
NEXT: Michael James: Away from the kids
Last updated September 25 2008: 3:44 PM ET
Email
|
Print
|

Digg this story
|

RSS