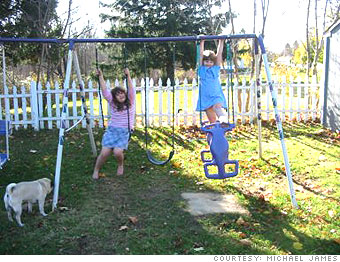 Michael James is spending less time with his daughters, Kayla and Ashley, as a result of soaring fuel costs.
Manufacturing operator, 37, Poughkeepsie, N.Y.
Gas prices have taught me to not drive anymore. I stay at my mom's house when I work. I won't come home.
It's a sad thing as I can't get back home so I can see my kids during a work week. The money I'm saving is going to them for food and other living costs.
I know all families are already wondering how they are going to make it next winter.
The government needs to do something more than just stimulate the economy to help working American families. The last rebate, well, it's already gone to cover the heating bill from last winter.
NEXT: Kathy Sperlo: A 4-day work week
Last updated September 25 2008: 3:44 PM ET
Email
|
Print
|

Digg this story
|

RSS