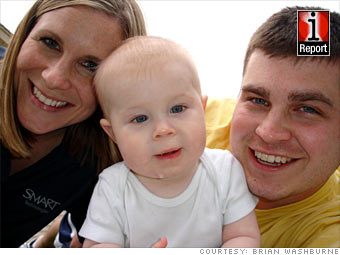 Brian and Ginny Washburne are scaling back on road trips, including trips to see grandma.
Credit analyst, 29, Arlington Heights, Ill.
Fortunately for 9-1/2 month old Mikey, he has two grandmas that love him more than anything. Unfortunately one lives in suburban Atlanta and the other lives in Ames, Iowa.
It used to be that we could pack up the SUV and surely not forget a thing while traveling at an affordable fare that barely hurt the bank account. Now, after downsizing vehicles to save gas, we can't bring everything -- and mommy is cramped in the back seat with Mikey while our dog Chopper rides shotgun.
While the benefits of Web sites like YouTube allow us to upload videos of Mikey as he continues to grow, it is hardly comparable to the real thing for his grandmothers. Mikey needs to see his grandparents, and mommy and daddy need a well deserved night out!
NEXT: Sarah Prechtl: Pulling double duty
Last updated September 25 2008: 3:44 PM ET
Email
|
Print
|

Digg this story
|

RSS