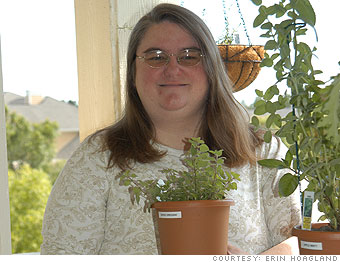 A member of several barter lists, Erin Hoagland keeps an eye out on items she can't afford right now.
Medical assistant and nursing student, 38, Durham, N.C.
I work and go to school and soaring gas and food prices have certainly cut into my budget. I've had to cut down on the number of classes I can take per semester so that I can plan ahead and only drive to campus two days a week.
My partner and I have started a "balcony garden" at our apartment so that we can grow our own culinary herbs and certain fruits and vegetables. Our indulgence spending has dropped to almost nothing and we recycle everything possible.
Our travel plans have been curtailed severely and we'll be lucky if we get away two or three times this year. We do as much as is possible with our schedules and resources but we are still strapped for cash every paycheck.
NEXT: Kathleen Finan: Make the pain stop
Last updated September 25 2008: 3:44 PM ET
Email
|
Print
|

Digg this story
|

RSS