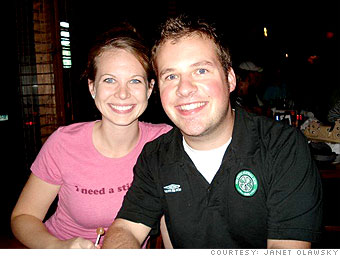 Janet Olawsky (pictured with her fiance Jeff Neidt) has seen ridership on her bus grow as gas prices have soared.
Legal project assistant, 22, Oakdale, Minn.
After graduating college and starting my first full-time job, I found out that my employer offered a reduced-price unlimited bus pass.
I immediately signed up, figuring that parking in downtown Minneapolis would eat away all of my paychecks. Of course, with $4 a gallon gas, the price of actually driving to work becomes prohibitive.
I never would have guessed I'd enjoy taking the bus. I drive 10 minutes to my free park-and-ride, then get to relax during the 45-minute bus ride.
Since January, I've read over 15 books alone! Plus, the bus can drive on the shoulder during rush hour, so I actually get to work faster.
The more gas prices rise, the fuller my bus becomes. It is amazing to see the effect that the prices have had on commuters.
NEXT: Dan Korn: A different set of wheels
Last updated September 25 2008: 3:44 PM ET
Email
|
Print
|

Digg this story
|

RSS