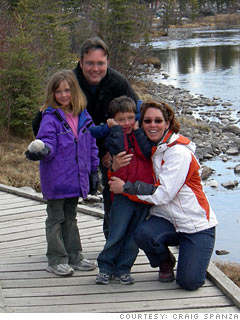 Craig and Kristen Spanza have more time to spend with their kids, Jessica and Adam, now that they live closer to work.
Homemaker and entrepreneur, 35, Dublin, Calif.
Two years ago we moved to within 6 miles of work, sold the second car and bought a scooter and an electric bicycle. Including depreciation, insurance, maintenance and gas, we now save $400 a month on transportation costs.
We are at home with family for one to two hours longer per day by living closer to work. We get to sleep longer, we get sick less often and we don't need to spend more time and money at the gym. We get to help the kids with their homework more. Yes, housing costs a bit more but transportation savings seem to cover that
Another benefit of shorter commutes is that you don't feel the need to have a fancy car anymore. We would rather travel instead of dumping cash into some land yacht because we are simply not in it that much anymore.
NEXT: Travis Barnhart: Taking toll on marriage
Last updated September 25 2008: 3:44 PM ET
Email
|
Print
|

Digg this story
|

RSS