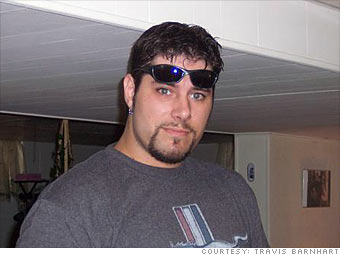 Travis Barnhart says the high price of gas is tightening the family budget, which adds strain on his marriage.
Systems engineer, 31, Chambersburg, Pa.
My wife and I share one car. With rising gas prices we have had to cut back on everything from food to spending time going out together. Not only do rising prices hurt the wallet, they hurt a marriage.
Between the two of us we drive about four hours a day. I drive 120 miles round trip to work, she drives 70 miles round trip to go take care of her 88-year-old grandmother. We also have to drive our daughter to and from school since we live so far away.
Our marriage has taken a huge downward turn without us being able to spend time together away from the house and due to the lack of money. Rising gas prices, in turn, raise the price of everything else, which hurts families all over the country.
NEXT: Jim Cherry: Upside of high prices
Last updated September 25 2008: 3:44 PM ET
Email
|
Print
|

Digg this story
|

RSS