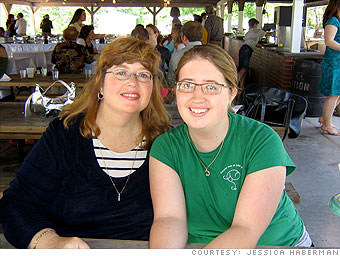 Jessica Haberman (pictured with her mom, Therese) forks over more for gas each month than she does on her car payment.
Assistant production editor, 24, Norwalk, Conn.
In October 2007, when I started my job, I paid just under $250 per month on gas. This month I'm on track to spend $310.
Three days ago, a gas station in Branford, Conn. - commonly the cheapest spot for gas in the state which I'm lucky enough to pass on a daily basis - was selling regular at $3.79 a gallon. Yesterday, it was $3.89. Today, when I had to fill up, it was $3.93. I fill up every three days.
I'm spending more for gas each month ($310) than I spend on my car payment ($293).
I may be up for a promotion soon, in which case I plan to negotiate for one day a week during which I can work from home. It's the only respite I can envision, considering gas is going nowhere but up.
NEXT: Warren Jackson: Carpooling pays off
Last updated September 25 2008: 3:44 PM ET
Email
|
Print
|

Digg this story
|

RSS