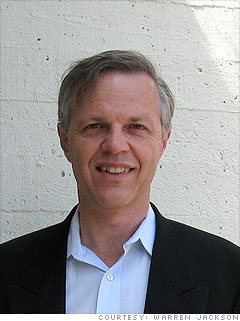 High gas prices pushed Warren Jackson to start carpooling. Now he says he'll "never go back to commuting alone."
Scientist, 54, San Francisco, Calif.
I commute 72 miles round trip each day. I've started carpooling with three other people. I've cut my commute gas consumption by near 70%. I used to fill up every 3.5 days and now it is every 15 days.
In two and half months we have saved 12,000 commute miles between us. The best part is the social aspect of carpooling. I learn about restaurants, movies, events, investments, etc from my carpool buddies.
Also driving in traffic is much less stressful if you are in a conversation with others. The best thing of all is that you can immediately start carpooling. You don't need big new expenditures or special government legislation. I will never go back to commuting alone - even if gasoline prices drop.
NEXT: Deidra Hodge: Stretched paycheck
Last updated September 25 2008: 3:44 PM ET
Email
|
Print
|

Digg this story
|

RSS