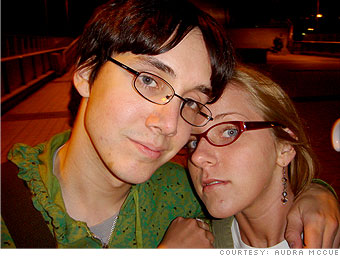 Audra McCue and her boyfriend, Andy McClave, are working their way through college - and feeling the burn of high gas prices.
Student and customer service representative, 21, Portsmouth, Ohio
My boyfriend and I commute together around 80 miles to get to and from work every day. He and I both live in a rural part of Ohio.
We not only work, but are also both full-time students. Although we have to drive quite a bit to get to work, we cannot find another job with as good benefits or pay.
Since the huge hike in gas prices, we have found ourselves having to cut back on trips to see our family back in Kentucky. And we have started walking to the university to save a few extra dollars in cash.
But, even with driving a car that gets excellent gas mileage, we are definitely feeling the burn. It is hard to explain to your mother or grandmother that you do not think you can afford the gas to come and see them on Mother's Day, but I have a feeling that it is only going to get worse.
NEXT: Bruce White: No more fun and games
Last updated September 25 2008: 3:44 PM ET
Email
|
Print
|

Digg this story
|

RSS