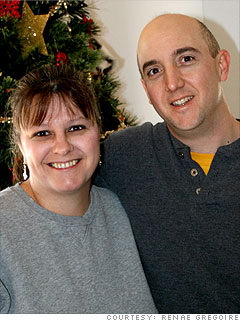 Renae Gregoire and her husband, Craig, are making a sign for their minivan that reads: "Drivin' slow...Savin' gas."
Freelance business writer, 41, Hendersonville, N.C.
The price of gas is unbelievable. My husband and I, who have three children and VERY busy, active schedules involving lots of driving, just yesterday decided we're going back to driving 55 mph on the highway and slower than the posted limits in town.
Yesterday we drove to Target, about 20 minutes away. I set the cruise control to 55 mph and just about felt like a freak with EVERYONE, and I mean EVERYONE zipping by us - even huge motorhomes hauling cars!
How can people continue to afford to drive like that? Why doesn't our government institute a 55 mph limit again with this price crisis going on?
Driving slower and easing up on the pedal has worked for us. After our latest fill-up, we calculated a savings of 4.5 miles per gallon (from 18 mpg to nearly 23 mpg) and a savings of $21.
Maybe we'll start a trend. But we can't continue on the same as before. Something has to change and it isn't going to be the price of gas ... so it has to be us!
NEXT: Ken LeBlanc: Doing the right thing
Last updated September 25 2008: 3:44 PM ET
Email
|
Print
|

Digg this story
|

RSS