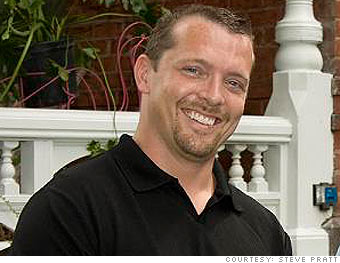 Carpooling helps Steve Pratt cut down on costs and stress.
IT manager, 35, Toledo, Ohio
I live in Toledo, Ohio, and work near the Detroit Metro Airport. The commute was really starting to become a burden on me. Daily, I would drive 45 miles one way.
The worst part of making a commute that long for me is that I really feel like I'm wasting resources. Yes, it was costing me $300 a month in gas, which is more than my car payment, but you start to feel like there has to be a better way.
As soon as gas hit $3.50 a gallon, I couldn't take it anymore. I started monitoring the different carpooling Web sites and ended up posting on a few.
After a month of waiting and thinking no one would ever reply, my posting on erideshare.com got a response. I worked out a few details with someone making a similar commute and we've been carpooling ever since.
Never having done that before, I wondered if it would be one big, awkward experience. But the guy I'm carpooling with turned out to be really interesting. The drive is a lot easier now that I have someone to talk to and we are both benefiting from it monetarily.
It turns out that carpooling actually reduced my stress levels and saved me some money, which reduced my stress level even further!!!
NEXT: Abby Wear: Moving to escape high gas
Last updated September 25 2008: 3:44 PM ET
Email
|
Print
|

Digg this story
|

RSS