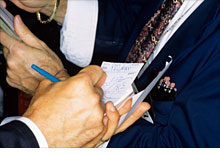 Government economists have said they have found no evidence that speculators -- investors like pension and hedge funds who don't end up using oil -- are to blame for the rising prices. They say trading information shows no correlation between investment activity and price swings.
Others, such as the International Energy Agency, have also said speculators are not to blame. They've pointed to other non-traded commodities that have risen in price even faster than oil, and to the fact that there is no evidence of a bubble, such as excess oil sitting around in storage.
Many people say speculators are good -- saying they allow users to more easily buy and sell contracts -- and that oil price would actually be higher without them.
Still, the correlation of a four-fold increase of investment money into oil futures and a four-fold increase in oil prices since 2004 has not gone unnoticed. Many lawmakers, consumer rights advocates and even some oil industry analysts say speculation is at least partly to blame.
In addition to requiring more information on who owns oil futures, several proposals in Congress want to limit how many oil contracts speculators can buy.

NEXT: A windfall profits tax on Big Oil

Last updated September 25 2008: 3:43 PM ET
Email
|
Print
|

Digg this story
|

RSS