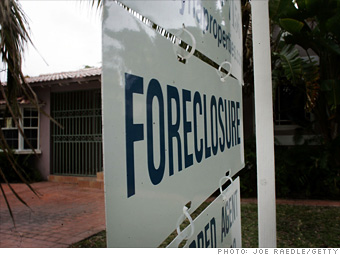 A foreclosure sign sits in front of a home in Miami, Fla., March 27, 2007.
The war still tops the political agenda, but problems in the subprime mortgage market are emerging. The hope is that they won't spread to the rest of the economy.
April 2 - New Century Financial, the nation's largest subprime mortgage lender, files for bankruptcy.
July 17 - Investors are told two Bear Stearns hedge funds, heavy into mortgage-backed securities, are now worth nothing.
Aug. 10 - The Federal Reserve injects $38 billion into the banking system as fears of a freeze-up in the credit markets mount.
Aug. 22 - Countrywide Financial, a big mortgage lender, sells $2 billion in stock to Bank of America to raise cash as borrowers default on subprime mortgages.
Candidates focus on Iraq, healthcare, and taxes in campaign speeches.
A CNN poll shows voters see the war in Iraq as Issue #1 (31%), followed by the economy (23%), healthcare (17%) and terrorism (10%).

NEXT: Summer/Fall 2007 - The deluge begins

Last updated November 03 2008: 2:44 PM ET
Email
|
Print
|

Digg this story
|

RSS