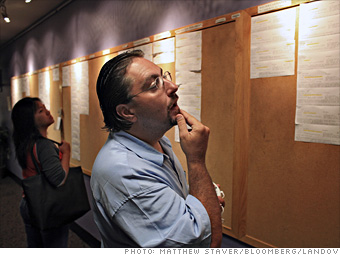 Jeffrey Hill looks over job postings inside a workforce center in Denver, Colo., Aug. 3, 2007.
Signs that the subprime crisis is infecting the broader economy emerge as declining home prices accelerate and jobs losses grow. The economy becomes issue #1.
Sept. 7 - The country sees a rare loss of jobs. Although later revised to show a gain, the numbers foretell massive job losses to come.
September - Same-store retail sales decline for first time in 5 years.
Sept. 17 - Barack Obama raises economic issues in a speech in New York, but stops short of linking problems in the finance sector with everyday people.
"These Americans and many others were already struggling before the problems on Wall Street arose," the Senator said. "We're all wondering whether this will spill over to the wider economy."
Sept. 18 - Fed cuts interest rates for first rate cut in 4 years.
Oct. 19 - Dow hits all time high of 14,198 as investors think rate cuts will keep the economy strong.
October - U.S. causalities in Iraq drop to one of their lowest points since the war began.
Nov. - Home prices fall by over 2% from the month before, the biggest drop since 1987, when Case-Shiller, Standard & Poor's most widely tracked home price index began keeping records.
Nov. 2 - In a CNN poll, voters say the economy is issue #1 for the first time in this election (29%), followed by Iraq (28%), healthcare (18%) and terrorism (12%).

NEXT: Winter/Spring 2008 - Economy in peril

Last updated November 03 2008: 2:44 PM ET
Email
|
Print
|

Digg this story
|

RSS