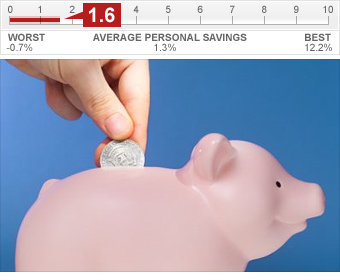 Feeling rich also comes from how much money you have available to you. Personal savings, measured by the Department of Commerce, is the amount of money you hold onto when all your bills are paid. It's stated as the amount of money saved as a percentage of disposable personal income.
In September, Americans saved an average of 1% of their personal income, down from 1.9% the month before. In fact, the personal savings rate has been on a steady decline since May, when it was at five percent - an unusually high level for Americans, possibly caused by the government's distribution of stimulus checks. Overall, the personal savings rate in the third quarter of 2008 was 1.3%.
The personal savings rate goes down, or can even become negative, when you borrow money to pay personal bills - because you are incurring more debt relative to your income. Personal savings was negative in the third quarter of 2005, when the rate went down to -0.7%. That's the lowest it's been in the last 28 years.
On the other end of our scale, people were banking the biggest chunks of their income in 1981, 12.2%.
So, if we make -0.7% equal to zero and 12.2% equal to 10, personal savings in the third quarter of 2008 scores a...
Personal Savings: 1.6

NEXT: Industrial Production

Last updated October 31 2008: 9:42 AM ET
Email
|
Print
|

Digg this story
|

RSS