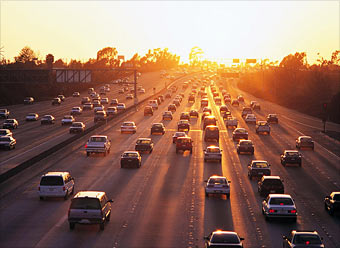 To make every gallon count, Obama wants to place more stringent requirements on automakers.
·
Double fuel economy standards within 18 years while maintaining current flexibility.
·
Offer $7,000 tax credit to buyers of plug-in hybrids.
·
Mandate all new cars be flex-fuel capable.
·
Provide $4 billion in retooling credits and loans to help domestic manufacturers switch to more fuel-efficient cars.
·
Aim to get 1 million 150 mile-per-gallon plug-in hybrids on the roads within six years.
·
Support creation of more transit-friendly communities and level employer commuting assistance for driving and public transit.

"I have a plan to raise the fuel standards in our cars and trucks with technology we have on the shelf today -- technology that will make sure we get more miles to the gallon." --
Obama
*
NEXT: Energy Security
Last updated November 06 2008: 11:36 AM ET
Email
|
Print
|

Digg this story
|

RSS
Source: *June 24, 2008, Speech, Las Vegas, Nev.