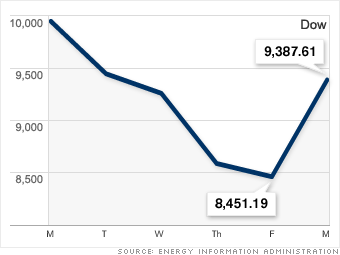 Dow closed at: 9,387.61
Gain in points: 936.42
Percentage gain: 11.1%
The Dow rallied by as much as 976 points on Monday, Oct. 13, increasing market value by $1.2 trillion - the largest single-day paper gain ever. That cut in half the $2.4 trillion in market value lost in the 8-session slide from Oct. 1-10.
Stocks rallied after a series of global initiatives aimed at stymieing the credit crisis were announced over the preceding weekend. The market also soared after the Treasury Department's bailout point-man, Neel Kashkari, finally revealed some specifics about its $700 billion financial rescue plan.
In addition to buying up equity stakes in banks, and, eventually, mortgage-backed securities, Treasury said it would purchase whole mortgage loans, insure home loans against default and help keep delinquent borrowers in their homes. (The Treasury would eventually cancel its plan to buy up toxic assets on Nov. 12, sending the Dow down 411 points and leading to the 13th-biggest decline of the year.)
Investors cheered an emergency meeting held Sunday, Oct. 12, in which 15 European nations agreed to help their troubled banks by injecting capital and guaranteeing inter-bank lending. Additionally, the British government said it would pump $63 billion into three of the country's banks.
The U.S. Federal Reserve responded to the global effort by saying it would offer an unlimited supply of dollars to three other central banks in an effort to keep money flowing. The list eventually grew to 13 foreign central banks.
More galleries
Last updated December 29 2008: 2:39 PM ET
Email
|
Print
|

Digg this story
|

RSS