When it comes to money matters, 2008 served up an unusually rich cast of saints and sinners. Here is our highly subjective list of who we love and who we love to hate.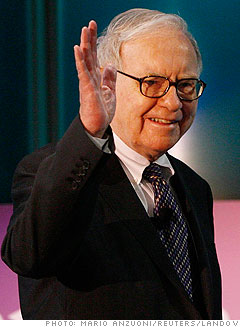 Chairman/CEO of Berkshire Hathaway
"I don't worry too much about pointing fingers at the past. I operate on the theory that every saint has a past, every sinner has a future." -- CNNMoney.com, Oct. 2, 2008
While other investors quaked, Buffett wasn't afraid to step up and put new money in the stock market, even taking big stakes in General Electric and Goldman Sachs this fall. Check out his eloquent
New York Times
editorial, "Buy America. I Am," to find out why.
He inspired confidence in investors and gave a nervous public clear, thoughtful reasons not to panic (and likely prevented some folks from taking all their retirement money out of stocks and locking in losses).
Another reason to love Buffett: He has warned for years about the dangers of derivatives, excessive CEO pay and investing in anything you don't understand. In both his words and actions in 2008, this legendary investor shone. --D.R.
NEXT: Hero: Sheila Bair
Last updated December 12 2008: 6:01 AM ET
Email
|
Print
|

Digg this story
|

RSS