Neighbors and buyers can't tell these artificial materials from nature's handiwork. But your wallet will know. Here are the best state-of-the-art look-alikes.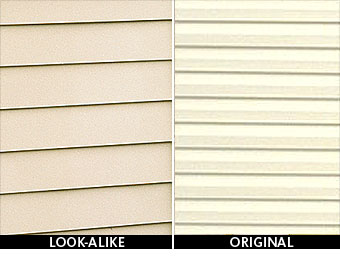 Average price: $13,000 to replace existing siding and trim with fiber cement
Savings: 25% less than wood
Where to look: jameshardie.com; certainteed.com
Look-alike rating: (On a scale of 1-10) 9
Unlike vinyl siding, which comes in large sheets, this consists of individual shingles or clapboards nailed in place one at a time to closely resemble wood. Made from recycled wood fibers mixed with cement, this siding won't rot.
Plus, it's impervious to water, so it holds paint longer than wood does. If it's factory-painted, the finish has a 15-year warranty.
Figure 10 years if you custom-paint it after installation; that's still nearly twice the life of paint on wood, says Marc Osborne, V.P. of National Lumber, a Massachusetts chain. There's a 50-year warranty on the siding itself.

NEXT: Manufactured stone
Last updated July 11 2008: 9:55 AM ET
Email
|
Print
|

Digg this story
|

RSS