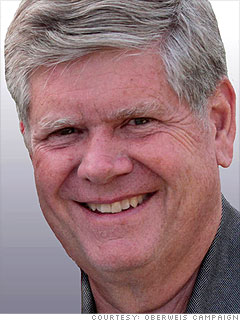 Founder, Oberweis Asset Management (Lisle, Ill.) and Chairman, Oberweis Dairy (Aurora, Ill.)
Party: Republican
District: Illinois, 14th
Incumbent and challenger: Bill Foster (D)
jimoberweis.com
Outcome: Lost
Jim Oberweis doesn't get put off easily. He's lost two U.S. Senate races and a gubernatorial election in the past seven years. He was also Bill Foster's unsuccessful opponent in this district's closely watched March special election, when Illinois' 14th District seat swung Democrat - a symbolic embarrassment to the GOP. Nonetheless, Oberweis is convinced he can win it this time.
"The economic crisis highlights the importance of having someone in Congress who understands how markets and the economy work," he says, emphasizing his financial and business credentials as founder of investment management firm Oberweis Asset Management and former CEO of the 1,000-employee-strong Oberweis Dairy in Aurora, Ill.
Commentators have pointed out that Oberweis' loss in March came in an election for which only 100,000 votes were cast. This November, his campaign hopes for a much larger turnout more representative of the district's traditionally Republican leanings.
Like many Congressional hopefuls, Oberweis is promising to bring a fresh perspective to Washington.
"We don't have enough entrepreneurs and people with a business background who understand the impact of taxes and regulations on creating jobs," says Oberweis.
Oberweis draws on his business background for an optimistic parallel to his political future. "Our ice cream is extremely rich. People said that you can't sell that in a fat-conscious world. We also put our milk in glass bottles - they said we were nuts. And we still deliver milk to homes even though people said the age of the milkman is over," he says. "I have a history of accomplishing things people said I can't possibly do."

NEXT: Gary Trauner