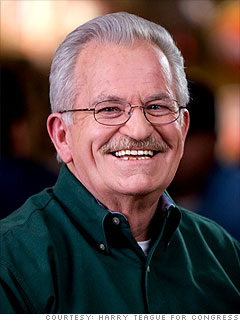 Teaco Energy Services
Hobbs, N.M.
Party: Democratic
District: New Mexico, 2nd
Incumbent: Steve Pearce (R) (running for Senate)
Challenger: Ed Tinsley
harryforcongress.com
Outcome: Won
Harry Teague embodies the American Dream - always a good selling point when you're running for Congress.
A high school dropout, Teague went to work on New Mexico's oilfields at age 17 for $1.56 an hour to support his sick parents. Several years later he had his own company renting tools for use in oil production facilities. Two decades later, he sold that company for a sum he puts at around $4 million.
In 2000, he launched Teaco Energy Services, an oil-well servicing business. Today, it generates about $50 million annually, employs 250 people, and has made Teague a multimillionaire.
"My story resonates well across the district," says Teague, 59, who provides health care and college scholarships to his employees and their families. "I can relate to people who have to make the decision between buying tennis shoes or t-shirts for their children this paycheck."
The decision to run for Congress, Teague says, came when he learned that the Republican incumbent would be running for the state's open Senate seat. A two-term county commissioner, Teague thinks his track record in local office and his business experience will help him win national office.
"I bring the experience of having had to make payroll for people and creating jobs. I've done that as a private businessman and as an elected official," says Teague, who has been endorsed by New Mexico Governor Bill Richardson and the American Hunters and Shooters Association.
Nonetheless, in a district that's kept a Republican in Congress for nearly three decades, winning a ticket to Washington will be a tough challenge.

NEXT: Ed Tinsley