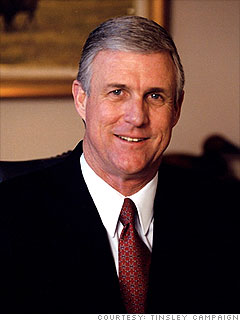 Founder and owner, Tinsley Hospitality Group
Santa Fe
Party: Republican
District: New Mexico, 2nd
Incumbent: Steven Pearce (R) (running for Senate)
Challenger: Harry Teague (D)
edtinsleyforcongress.com
Outcome: Lost
Ed Tinsley believes that his diverse entrepreneurial experiences make him the best candidate in what's proving to be a tight race for New Mexico's 2nd district.
The owner and former CEO of a Santa Fe-based steakhouse franchiser, Tinsley has also owned an oil exploration business and a sandwich franchise that he expanded to more than 20 stores in the 1980s.
"It's been an excellent training ground. I bring knowledge of small business, energy and agriculture to the campaign," says Tinsley, 56, who runs a ranch at his home in Capitan, and has served on the board of the National Restaurant Association trade group for 14 years.
The new Congress will confront the daunting task of repairing a weak economy. Tinsley is used to fixing broken business models: He bought the K-BOB's Steakhouse chain out of bankruptcy in 1991. It now has more than 15 restaurants in three states.
"It was not all that different from the financial crisis we're encountering now - although obviously on a smaller scale. But the principles are the same," he says.
Tinsley's work with the National Restaurant Association, which included a stint as the group's president, directly inspired his run for Congress.
"I began to observe how broken Washington was," says Tinsley. He promises to address energy, health care and taxes, in that order, should he be elected. Tinsley's proposed energy policy includes more domestic drilling, but would also use tax incentives to encourage manufacturers to develop more fuel-efficient equipment.
"We have to use less," he says, emphasizing that developing alternative sources of energy will also have to be a priority.
But securing a seat that has been Republican-held for nearly three decades hasn't been as easy as anticipated: Tinsley's seen a strong challenge from his Democratic opponent, Harry Teague, a wealthy businessman with a conservative tinge. Recent polls show Teague with a slight lead in a race that he began as an unlikely underdog.

NEXT: Betsy Markey