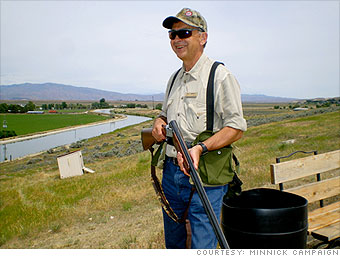 Founder, SummerWinds Garden Centers
Boise
Party: Democratic
District: Idaho, 1st
Incumbent and challenger: Bill Sali (R)
waltforcongress.org
Outcome: Won
Walt Minnick, 65, has repeatedly failed to retire.
The former CEO of a $700 million wood products manufacturer tried it in 1995, but a year later he ended up launching a campaign for the U.S. Senate as "an independent running on the Democratic ticket," as he describes it. He lost, and instead focused on founding a chain of garden centers called SummerWinds. A decade later, it was a $40 million business, and Minnick had itchy feet again. Last year, he stepped down from his position as SummerWinds CEO to run for Congress.
This time, the multimillionaire is happy to acknowledge that he's running as a Democrat, although he shares a libertarian bent common among Idaho voters.
"I'm a fiscal conservative and a social conservative. That doesn't characterize the national Republican party today," says Minnick, who worked for nearly four years in the Nixon administration. "I'm not very partisan. As a businessman you're always dealing with people who have different interests. So you sit down and try to work out a win-win solution. That's what politicians ought to be doing in Congress."
If elected, Minnick plans to work with the Blue Dog Democrats, a group of fiscally conservative representatives, to insist that spending increases be matched by corresponding spending cuts. He also wants to help boost support for federal assistance and consumer incentives for the commercialization of alternative energy technologies.
In a state that went more than 65% for President Bush in 2000 and 2004, Minnick's well-funded campaign is seen by many as a long shot, but an unexpectedly competitive one.
Minnick is optimistic about his chances: "People are looking for outsiders who are problems solvers - and I don't think they care whether they're Republican or Democrat."

NEXT: Dan Humiston