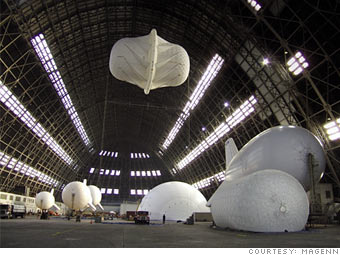 If you want to see the future of wind energy, look up.The higher you go, the stronger and steadier the wind becomes - and the more power you can reap from it.
That's why Ottawa-based Magenn Power is building an airship to generate energy from high-altitude wind. CEO Pierre Rivard's helium-filled rotating blimps will hover at up to 1,000 feet - conventional turbines remain suspended at 300 feet - and use fabric sails that transmit energy to the ground via high-voltage cable tethers. The result: A single blimp can power up to five homes.
After many frustrating attempts, Magenn finally developed a working prototype. Today the company boasts that it has secured $5 million from investors and a $1 million renewable energy grant from the Canadian government, plus its first customer, the Sandbanks Provincial Park on the shores of Lake Ontario. The company's 10- to 25-kilowatt airship debuts there in 2009, and a more powerful 100-kilowatt system should take flight in 2010.
Magenn still hasn't put a price tag on its airships, but Rivard expects them to eventually cost about $2,400 per kilowatt generated, on par with conventional wind turbines. Initially, Rivard is focusing on providing power to off-grid operations that rely on pricey diesel-fueled generators, such as mining sites, oil wells and large campgrounds. Provincial officials in Ontario, which has pledged to rid itself of coal-fired plants by 2014, are providing public land to test and fly the blimps. Eventually those officials would like to see Magenn power 4,900 far-flung homes and businesses in northern Ontario that are difficult to reach in winter. - Jennifer Alsever

NEXT: Book 'em!