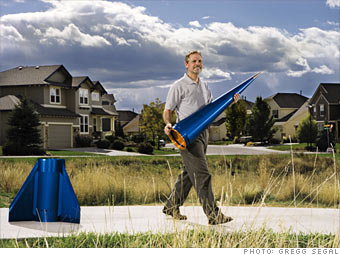 There's not much to see at the future home of Spaceport America, touted as ground zero for commercial rocket traffic. Deep in the New Mexico desert, you'll find shrubs, scorpions - and Jerry Larson. His company, Up Aerospace, has signed on as the first tenant of the $220 million spaceport, where construction will begin in 2009.
The private space industry pulsates with wannabes who have launched little more than press releases, but Larson is that rare entrepreneur who has actually sent a rocket into space - and figured out how to make it pay. In 2009,
Larson expects to turn his first profit on revenues of nearly $1 million, a considerable increase from his hobbyist income of $300,000 in 2007.
Larson, 48, saw a potential profit in sending stuff - corporate R&D projects, university research, even memorabilia - on short trips into near space (between 12.3 and 62 miles above sea level). Larson founded Up Aerospace in 2004 with backing from several investors. He currently works out of a warehouse near his Denver home and will expand into New Mexico once Spaceport America is completed.
For Up Aerospace, Larson has built what you might call a freight rocket. The unmanned craft stands 20 feet tall, and half of its volume is reserved for commercial payloads. Several customers can purchase cargo space on each flight, akin to a time-share.
Larson also developed software that allows him to calibrate a rocket launcher's position from his laptop to within one-thousandth of a degree. Each launch requires three days' preparation and a ground staff of three. By contrast, the Air Force and NASA each require a month of preparation and 20 staff members to do the same job. And his service is much cheaper: Larson says he can launch a rocket for $200,000, about a tenth of what it costs the government.

More galleries