Hoping for festive feelings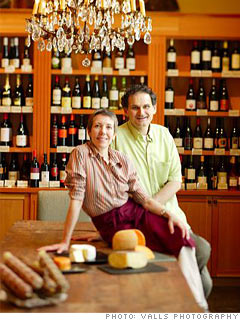 Luan Schooler Co-owner, Foster & Dobbs
Portland, Ore.
My husband, Tim Wilson, and I just celebrated the third anniversary of our specialty foods shop. Business grew through the first years and we expected to become profitable this fall. Unfortunately, we got hit with a double-whammy this September. First our building underwent construction - all the scaffolding made us appear out of business - and then the economy tanked.
People are scared of the economy, and that fear prevents them from buying as much as usual. This is a bad situation for us, as the holiday season is typically our busiest time of year, when people serve fine foods at their parties and give our unique products as gifts. In order to hold steady, we are relying on our strong rapport with customers. If their budget is tight for a party this year, we'll take the time to work with them to meet their needs. If they're hesitant about buying that whole block of cheese, we'll cut it so they can feel comfortable making the purchase.
If everyone decides they don't want food this year, we're toast. But I'm cautiously unpessimistic that people will relax a bit this holiday season and my shop can turn the corner before we are forced to make hard decisions about whether we can afford to stay in business.

NEXT: Price wars in the luxury market