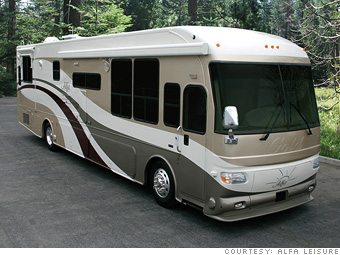 Ontario, Calif.
Founded: 1973
Closed: March 2008
As the economy slows down, big-ticket, gas-guzzling purchases have been among the first to disappear. At least six large motor-home manufacturers have gone out of business since December. The casualty list includes Alfa Leisure, a 35-year-old maker of luxury RVs.
Founded in southern California by the scion of Fleetwood Enterprises - one of the world's largest RV companies - Alfa was known for turning out what fanatics called the industry's first "summer-shares on wheels." For around $200,000, Alfa's "See Ya!" models featured windows double the size of the competitions' and spacious floorplans with walk-in closets, basement storage, and the latest in home-theater technology.
"The coaches were always ahead of their time," said Scott Degnan, who served as Alfa's president from January to March. Alfa's sales, which peaked at about $150 million, started to dwindle in 2006. The company took an infusion of $10 million in capital from a Los Angeles venture capital firm in 2005, but it wasn't enough to stem the tide of red ink. A manufacturing glitch that caused fiberglass on Alfa's interiors to blister added to the company's financial woes, at a time it when it couldn't afford any missteps.
"We had a niche product in a slowing economy - it wasn't long before we weren't able to cover overhead expenses," said Degnan, now a vice president of sales for Coachmen RV Group, a Middlebury, Ind., motor-home company. Just 90 days after Degnan took over Alfa Leisure, the company shut down.

NEXT: Olsson's Books and Records