Looking for a Volt supercharge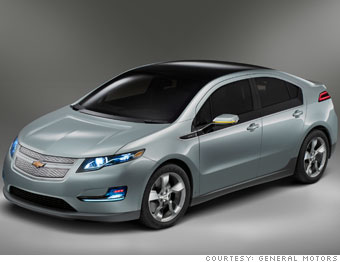 One thing that players in the electric vehicle market agree on: The buzz surrounding GM's projected 2010 launch of its Chevrolet Volt - a $30,000 electric hybrid commuter car that will travel 40 miles on a single charge - is a good thing for the entire market.
"While I don't see the Volt as necessarily being competitive with our product, I hope Chevy succeeds," says Elon Musk of Tesla. "One of the reasons why I have put so much effort into this is that I believe that the future of cars is electric."
But at this point, car industry analysts say that with electric cars starting at around $30,000 and as gas prices continue to drop, most Americans aren't willing to fork over the extra money, even if they get that the energy-efficient vehicles would help alleviate the effects of global warming.
"Right now, the basic technology and infrastructure isn't there," says Doug Scott, a senior vice president at research firm GfK Automotive. "However, if we get back to $140 barrels of oil and the politics of this situation get to the point where the American government says we need to switch to the power grid, an electric vehicle car becomes much more of a reality."

More galleries