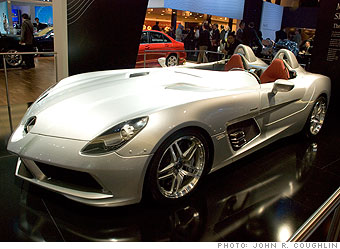 Named after the legendary 1950s race driver Stirling Moss, this 650-horsepower supercar probably won't be available for sale in the United States. Don't feel too bad, though. It's barely going to be available anywhere.
Only 75 will be produced at a price of 750,000 euros which works out to about $1 million apiece. You'd also have to throw in the cost of a helmet and wait for good weather. This car doesn't have a convertible top. It's got no top. When there's no-one in it, the passenger compartment can be enclosed using a pair of covers that fit into the truck.
The car's entire body is made from lightweight, strong and very expensive carbon fiber. This will be the last car in Mercedes' exotic SLR line. In May, SLR production will cease altogether.
With the economy in a worldwide funk, you might think there's no place for a car like this. But customers who can afford million dollar toys aren't worrying much. Besides, the SLR will attract a lot of attention and reinforce Mercedes' high-end image.

NEXT: 2009 BMW Z4

Last updated January 13 2009: 3:59 PM ET
Email
|
Print
|

Digg this story
|

RSS