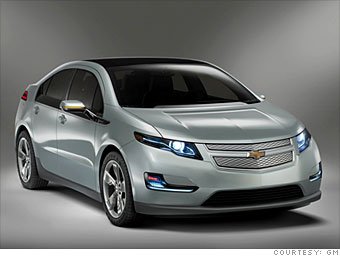 Cost: Est. $38,000
Tax credit: $7,500*
The Volt is expected to go on sale in late 2010. It can go up to 40 miles on plug-in power alone. Beyond that, a small gasoline engine will generate electricity on the run so drivers can go farther without stopping to recharge.
General Motors targeted a 40-mile range because that's farther than most Americans travel on most days. That means many drivers could go weeks using very little, if any, gasoline.
Instead of trying to increase the range, engineers will concentrate on reducing the cost of future versions of the Volt, GM executives have said.

NEXT: GEM Car

Last updated February 23 2009: 1:53 PM ET
Email
|
Print
|

Digg this story
|

RSS
*Based on reading of legislation. IRS rules not yet finalized.