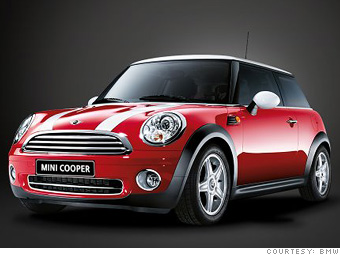 Cost: $57,500
Tax credit: $4,000*
EV Innovations, formerly called Hybrid Innovations, makes several all-electric plug-in cars that are converted from standard gasoline-powered cars.
The vehicles use lithium-ion batteries, and the conversion isn't cheap. So they ultimately cost much more than you'd expect to pay for a typical Toyota Yaris, Chrysler PT Cruiser or a Mini Cooper. You clearly would not buy a car from EV Innovations just to save on gas money, even with the tax credits.
EV Innovations calls its converted Mini the Flash. The image here is an unconverted Mini Cooper.
For converted cars like these, the credit is calculated as 10% of the cost of converting the vehicle - not the entire cost of the vehicle - up to a maximum of $4,000. On average, the conversion costs about $40,000, EV Innovations said.

NEXT: Dueco T292

Last updated February 23 2009: 1:53 PM ET
Email
|
Print
|

Digg this story
|

RSS
*Based on reading of legislation. IRS rules not yet finalized.