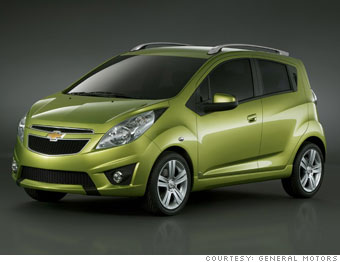 Dream: Small, fuel-efficient cars will bring back buyers.
Reality: Small cars are important... as loss leaders.
Part of what got GM and Chrysler into their current mess was a spike in demand for small cars as gasoline prices shot up over $4 a gallon this summer. Domestic automakers didn't really have much to offer, so consumers flocked to Honda, Nissan and Toyota showrooms to buy small cars with fuel-efficient four-cylinder engines.
But as gas prices came back down, buyers' recent behavior has shown that the move to small cars wasn't necessarily a permanent shift. American car-shoppers will probably never go back to the "who-cares-about-mileage" days when no SUV could be too big, but they still want to carry their kids and their luggage with a bit of road power.
Small, good cars are crucial for bringing in first-time buyers who trade up to more expensive products later on. That's the real reason GM and Chrysler need them, because they're the foundation for later success. They will also be important to help automakers meet stricter fleet-wide fuel economy requirements.
GM recently unveiled images of a new, cool-looking subcompact called the Chevrolet Spark, shown here. Chrysler has signed up with Italian automaker Fiat which could supply its dealers with its retro-cool and ultra-small Fiat 500. An earlier deal with Nissan, which was also to have supplied Chrysler with a small car, is now on hold.
Impact : High-quality, exciting small cars will be important to the future of Detroit, but not because of wide consumer demand. They will help meet regulatory requirements for fuel economy and, perhaps more importantly, will attract new generations of buyers.

NEXT: Killing off brands

Last updated February 17 2009: 6:58 PM ET
Email
|
Print
|

Digg this story
|

RSS