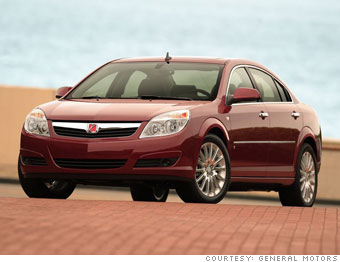 Dream: Trimming underperforming brands and their dealer networks will streamline operations.
Reality: It might help GM, but it's not easy or quick
It's been long said that a big part of GM's problem is that it has too many brands. The automaker finally seems to be listening, because it plans to rebuild the company around a core of just four brands: Chevrolet, Buick, GMC and Cadillac.
Hummer and Saab, slight sellers even in good times, will probably go, either sold off or closed up. Saturn, which received sizable investments in new products and dealership upgrades over the last few years with no boost in sales, is facing likely death, GM executives have said.
Not having to market and populate these brands with products will save money, but it won't be easy or free. Dealers have binding contracts and strong state laws protecting their interests. They will need to be compensated for lost business or offered other GM products to sell.
Brands also have valuable identities that can fill a specific marketing need. That's why GM is keeping Pontiac. It can't have youth-oriented inexpensive cars sold under the Buick or GMC brands, and it needs those buyers.
Chrysler has only one genuinely strong brand right now - Jeep - but it sells a niche-oriented product line. (Try to imagine Jeep selling minivans.) Assuming Chrysler doesn't want to fold its tent altogether, it will need its Chrysler and Dodge brands to start pulling their weight. Chrysler may even add a fourth brand to its line-up - Fiat - in a deal that could see the Italian cars coming to the U.S. fairly soon.
Impact: Shedding excess brands can shave costs and improve efficiency, but it also costs money and puts pressure on other brands to pick up the slack. For GM, the question will be if the carmaker can make the most of its refocused marketing plan.

NEXT: Quality improvements

Last updated February 17 2009: 6:58 PM ET
Email
|
Print
|

Digg this story
|

RSS