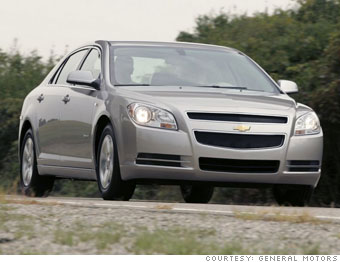 Dream: Higher quality cars can bring back buyers who've gone to Asian brands.
Reality: Regaining the trust of car buyers will be key. But it's a long-term issue.
One of the biggest challenges for Chrysler and General Motors is the long memory of car owners who've been burned by unreliable products. Add to that the poor "perceived quality" - the feel of interior materials and the sound of engines and doors - of some of their more recent models.
Despite many improvements, both automakers have continued to lag the industry leaders in both perceived quality and dependability, according to data from J.D. Power & Associates and Consumer Reports - Chrysler especially so. The Chevrolet Malibu, pictured here, has earned especially strong marks for GM.
Ford Motor Co. has learned that improving quality isn't enough. Perceptions are much harder to fix. Ford has done a remarkable job of improving the dependability of its vehicles so that today's Ford cars are just as dependable as Honda's and Toyota's, according to Consumer Reports.
But according to a recent opinion survey by the same magazine, car shoppers don't rank Ford among the top five when they think of quality. Meanwhile, Mercedes-Benz, which has ranked among the least-reliable brands, according to actual owner experience, ranked right behind Toyota and Honda in shoppers' perceptions of quality.
Impact: Quality improvements simply must continue. Car buyers today expect an extremely dependable product, and when they don't get it, they don't come back. Unfortunately, the return on that investment will take a long time because many American car buyers have already given up.

NEXT: Electric cars

Last updated February 17 2009: 6:58 PM ET
Email
|
Print
|

Digg this story
|

RSS