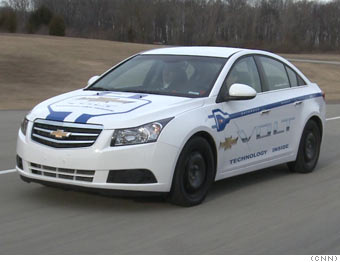 For these test laps, I was running with a fully charged battery. That meant I wasn't able to test the "charge sustaining mode." GM engineers are still tweaking the car's performance under gasoline power, said Tony Posawatz, vehicle line director for the Volt, so they weren't ready to have outsiders test that yet.
With a fully charged battery, the Chevrolet Volt will drive up to 40 miles exclusively on plug-in electric power. After that, if a driver wants to go farther, the 1.4-liter gasoline engine will turn on. Even then, the car will still be electrically-driven, but the electricity will be generated by the engine. GM calls that longer-range driving "charge sustaining mode" because the battery is kept partly charged, so that it can kick in when an extra jolt is needed for acceleration.
The 40-mile pure-electric range was specifically selected as a goal by GM engineers because most Americans drive less than that on most days. That means, assuming they charge the car every night, they could go for months without needing to fill the tank while, at the same time, having the ability to drive long distances without worry.
Under full electric power, which is how most owners will experience it most of the time, the Volt proved surprisingly potent.

NEXT: Silent power

Last updated April 15 2009: 1:14 PM ET
Email
|
Print
|

Digg this story
|

RSS