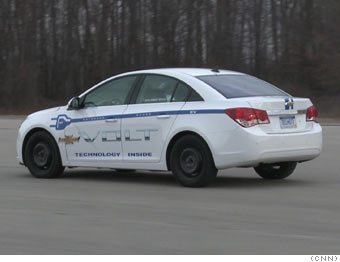 The Volt should be a reasonably enjoyable car to drive, but a lot will depend on how GM engineers deal with the car's weight.
The Volt has a T-shaped battery pack weighing about 400 pounds that runs down the center of the car's floor pan and then out under the back seats. Plus, it has an electric motor/generator that's attached just below the gasoline engine, which is to one side under the hood.
The first time I drove the front wheel drive test vehicle into a turn, the weight came as a surprise. It felt almost like the small Cruze had turned into something more like a Cadillac the moment I turned the steering wheel.
A lot can be done with suspension tuning, though, GM's Posowatz assured me. The benefit of the battery pack is that it puts the weight low in the car. That will give the Volt a lower center of gravity, which will help it feel more stable in turns.
It will still be heavier than other cars its size, though. Nothing's going to change that. But better-tuned suspension and different wheels and tires should help.

NEXT: Future developments

Last updated April 15 2009: 1:14 PM ET
Email
|
Print
|

Digg this story
|

RSS