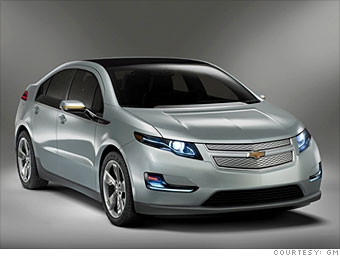 Production version of the Chevrolet Volt
The production version of the Chevrolet Volt, shown here, is scheduled to go on sale in November, 2010.
GM engineers are already working on the second- and even third-generation versions of the Volt's Voltec technology, as GM calls it.
In future versions, the range will still be 40 miles under electric-only power. That won't change because 40 miles is still the "magic" number, GM says. It more than covers most people's daily driving. Anything beyond that would mean adding needless cost, weight and battery size.
Next-generation Voltec cars - that means cars planned for 2015 and beyond - will be lighter, roomier and will cost less than the Volt.
While GM hasn't said, officially, what the Volt will cost, it also hasn't batted aside the common prediction that it will cost about $40,000. Buyers should be eligible for a $7,500 tax credit, so the real cost for most people will be about $32,500.
So, even factoring in the tax incentive, that puts the Volt in the range of an entry-level luxury car. It will certainly be the most expensive Chevrolet you can buy this side of a Corvette or a top-of-the-line Camaro.
Depending on driving habits and, of course, gas prices, fuel savings could easily make up that cost difference. Unlike a typical hybrid car, a Volt owner could potentially cut gasoline almost entirely out of the budget.
High gas prices would also drive up resale values on a car like the Volt, assuming the car proves to be dependable. (GM quality has improved greatly in recent years, so that's far from a crazy assumption.)
In the end, the Volt won't be a huge seller or a big money-maker for GM. Its value lies in changing perceptions. A test drive in this early version is one step in the process.

NEXT

Last updated April 15 2009: 1:14 PM ET
Email
|
Print
|

Digg this story
|

RSS