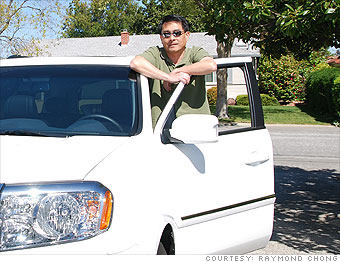 Raymond Chong with his 2009 Honda Pilot.
Location: Cupertino, Calif.
Why I bought my Honda: I wanted an American car. I wanted a hybrid.
Instead, I got neither.
After a decade of owning a Mercedes E-Class station wagon, I wanted a vehicle that would be good for the environment. But when I went to the dealerships, I was so disappointed.
I was planning to get a Ford Fusion hybrid, but they priced it at $29,000 for a stripped-down model. Plus, the dealer marked it up another $3,000. That's a lot of money for a little car - and a basic Ford at that.
Instead I bought a top-of-the-line 2009 Honda Pilot SUV for $34,000. It's fully loaded and can fit eight people, which is important for my wife and for four kids.
It came down to pricing. I had my checkbook in hand, but the dealer wasn't open to negotiation despite the $3,000 markup. It was extremely disappointing, especially because the car companies seem desperate.
My thoughts on the Big 3 bailout: I do think they have compelling products, but they're weighed down by internal issues. For example, I would have considered a GM car, but the resale value concerned me. Who knows what will happen in the future with the company?
A lot of people of my generation are coming from foreign brands. When we were growing up, we saw all these problems with domestic cars. It's unfortunate they lost an opportunity with me and, I'm sure, many others.
I really would like the auto industry to go on, because it's an important part of America's history.

NEXT: Jon Froderberg: 2001 Ford Focus ZX3