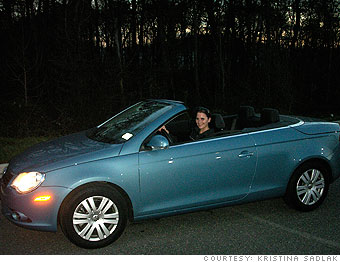 Kristina Sadlak with her 2008 VW EOS.
Location: Washington, D.C.
Why I bought my VW: I don't drive much because I live in a city and walk to work. But I still wanted something fun when I am out on the road.
At the end of December, I purchased a 2008 VW Eos - I wanted a hard-top convertible. It was a certified used vehicle with only 8,000 miles on it. I got a great deal because business had been so slow.
I previously had a 2002 Audi A4 with very low mileage, but I didn't want to spend any money fixing a car I didn't drive. I tried to sell the Audi, but I couldn't get a buyer after the credit markets froze up. So I traded it in and ended up paying only $24,000 for the Eos.
I'd planned to buy a new car, but this deal was good to pass up. I got 2.99% financing through the dealership over five years, since that's how long the warranty lasts.
Originally, I didn't want another German car since they're very expensive to fix. But I wanted a car that was fun, affordable and very nice looking, and this VW fit the bill. I like that the Eos it has a backseat, for both insurance and space purposes.
My car payments are now only $100 a month more than they were before.

More galleries