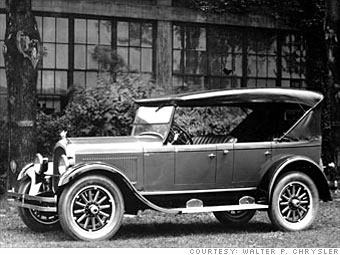 Automotive historian L. J. K. Setwright has referred to the Chrysler B70 as perhaps the finest mass-produced car in the world when it was introduced.
The company that made it was called Maxwell Motors. It didn't become Chrysler Corp. until 1925, when Walter P. Chrysler, who had taken over Maxwell two years after quitting his job as head of General Motors' Buick division, officially renamed the company.
A pressure-lubricated six cylinder engine capable of sustained 70 mph speeds, air and oil filters, four-wheel hydraulic brakes, tubular front axle and an internally-lit dashboard with temperature gauge were some of the car's groundbreaking features.
This car established Chrysler as "the engineering company."
Source: Walter P. Chrysler Museum

NEXT: 1932 Plymouth PA