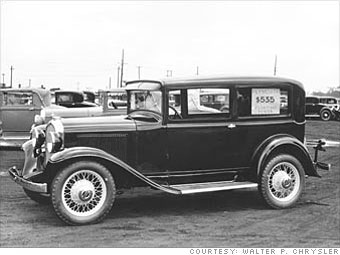 Chrysler launched the low-priced Plymouth brand in 1928 to compete with Ford and Chevrolet. Plymouth gained traction in the Thirties with a combination of strong value and clever promotion. Presaging Lee Iacocca's role decades later, Walter P. Chrysler was featured in ads urging buyers to "Look at all three!" low-priced makes.
The PA introduced "Floating Power," an engine mounting system that isolated engine vibration, providing "the smoothness of an Eight with the economy of a Four."
Plymouth soon lifted Chrysler Corporation into second place in U.S. domestic production, a position it held until the early fifties.
Chrysler shut down the Plymouth brand after the 2001 model year.
Source: Walter P. Chrysler Museum; "Standard Catalog of Chrysler," edited by James T. Lenzke (Krause Publications)

NEXT: 1934 DeSoto Airflow