A look at the most important cars in the company's history as the carmaker faces another major turning point.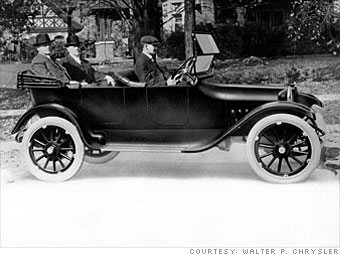 Throughout its long history, Chrysler has been both an innovative automotive leader and an anemic crisis-riddled company.
But its history dates back much farther than the Chrysler name and is tied to the most iconic American car ever made, the Model T Ford.
Brothers Horace and John Dodge were among the earliest auto parts suppliers, making about 80% of the mechanical parts used in the Ford Model T between 1903 and 1912.
The Dodge brothers eventually became major shareholders in Ford. Wealthy from their holdings they went on to build their own car, a famously tough all-steel bodied touring car. That vehicle made Dodge synonymous with "dependability" for forty years.
Horace and John died in 1920 from a flu contracted during the New York Auto Show. Their car company was acquired by Chrysler Corporation in 1928.
Sources: Walter P. Chrysler Museum; "Chrysler: The Life and Times of an Automotive Genius," by Vincent Curcio (Oxford University Press); "Wheels for the World: Henry Ford, His Company, and a Century of Progress," by Douglas Brinkley (Viking)
NEXT: 1924 Chrysler B70