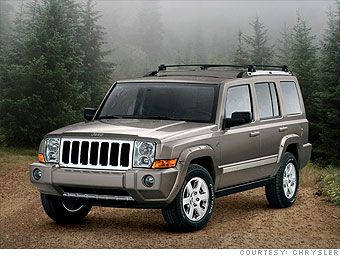 With the Commander, Chrysler tried to stretch a smaller vehicle too far.
Once again stretching to make more with less, Chrysler designers and engineers managed to pile a big SUV into the skeleton of a much smaller Jeep Grand Cherokee.
While the distance between the front and rear wheels remained the same as on the Grand Cherokee, the Commander had an extra row of seats, four cubic feet more passenger volume and a cubic foot more cargo space.
This exercise in maximizing gave the Commander awkward proportions. The tall SUV also teetered through turns and wallowed over bumps, feeling like small boy struggling to carry a big package.
To add to its problems, the Commander also arrived on the market just as consumers were turning away from giant SUVs.
Add poor timing to its list of problems.

NEXT: 2007 - Dodge Nitro