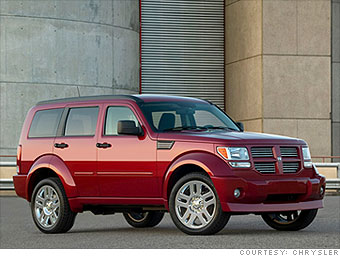 With the Nitro, Chrysler tried to fool its customers into thinking they were getting something they weren't.
Crossover SUVs had become a hot item, stealing sales away from bigger SUVs. With the Nitro, Chrysler squeezed its way into that market without waiting for true a crossover SUV.
The Nitro is a Jeep Liberty stripped of its "Rubicon Trail" capabilities. There is no "four-wheel-drive lock" setting, for instance. But what couldn't be stripped out was the Jeep's harsh, bouncy ride and anemic street performance.
Like other Dodge's and Jeeps of this generation, the Nitro also has a hard-edged, chintzy interior no different from the Liberty's except for Dodge's ram's-head logo.
Even a short test drive would reveal that, no matter what it might look like, the Nitro doesn't offer what customers really want in a crossover SUV: the ride and handling of a car in a roomier package.
Chrysler did come out with the Journey, a larger true crossover vehicle, last year. It's not the best on the market, but at least it's honest.

NEXT: 2007 - Chrysler Sebring