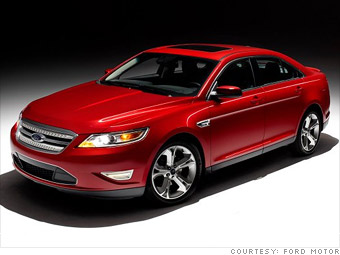 As much as Americans say they want fuel efficient cars, they're also loathe to give up performance. Turbocharging and direct fuel injection offer ways to get more power from smaller engines that use less fuel.
Turbocharging uses pressure from hot exhaust gas to spin a turbine that pushes more air into the engine creating higher pressures and more power.
Direct fuel injection differs from the traditional fuel injection most cars have today. It allows greater control of precisely when and how fuel goes into the engine.
In the case of Ford's new EcoBoost engine, injectors pulse out a complex series of injections that cool the air in the cylinder before combustion. Combined with twin turbochargers, they help get as much power as possible from the burning fuel.
In the Taurus SHO, which goes on sale this summer, a 3.5 liter 6-cylinder engine produces up to 365-horsepower. That's 16% more power than Ford gets out of the 4.6-liter V8 engine in the Mustang GT.
The thing you lose with fewer cylinders is some of smoothness. While it really does provide a V8 feel, there's is that high-spinning V6 sound under hard acceleration. But this is a Ford Taurus, after all, not a grumbling muscle car. Most buyers will happily give up a little sound quality for the sake of a lighter gas bill and more power.
Besides the engine, by the way, the new Taurus is a huge step up from the current model. Although its a close cousin of the Lincoln MKS, the Taurus's interior looks and feels much nicer, at least in this top-of-the line version. This car should bring back some long lost luster to the Taurus name.

NEXT: Fusion Hybrid

Last updated May 06 2009: 11:11 AM ET
Email
|
Print
|

Digg this story
|

RSS