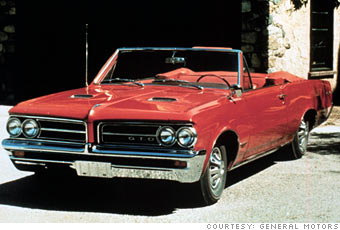 The GTO was originally a performance-grade upgrade available on the 1964 Pontiac Tempest LeMans, the brand's top-of-the line model.
"GTO" was appropriated from Ferrari, where it stood for "Gran Turismo Omologato." A translation is irrelevant, because it was chosen simply to add a little marketing muscle to go with the car's big engine, a 389 cubic inch V8 producing as much as 389 horsepower.
GM soon marketed the GTO as a separate car. And by dropping a high-output engine into a small (for its day) two-door, Pontiac created the basic idea of the "muscle car."
The GTO also firmed up Pontiac's image as GM's "excitement division," although Pontiac dealers have always sold a mix of fare from spicy to mild.

NEXT: 1967 - Firebird