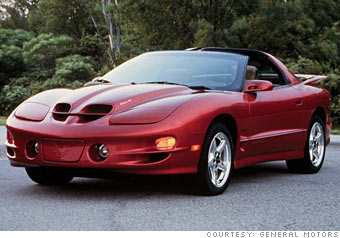 As the American performance market heated up in the late 1960s, Pontiac piled on with the Firebird.
GM introduced the Firebird and its close cousin, the Chevrolet Camaro, in 1967 in response to Ford's success with the Mustang.
These were "pony cars," a reference to the Mustang name but also to their smaller size compared to true "muscle cars" like the bigger GTO. After the GTO faded away in the mid-1970s, the Firebird became Pontiac's performance showpiece.
The most famous version was the Trans Am, introduced in 1969. A few years later, Burt Reynolds made it an automotive icon in the movie Smokey and the Bandit.
The 2001 Firebird shown here is the closing chapter. After the 2002 model year, GM shut down Camaro and Firebird production.
GM's repeated refusal to consider reintroducing the Firebird, even after bringing back the Camaro, was a bad sign for the Pontiac brand.

NEXT: 1984 - Fiero