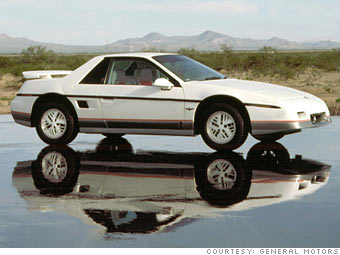 Bringing the Firebird's looks into a smaller package, the Fiero certainly looked intriguing. Here was a shark-nosed two-seater with high-tech, dent-resistant body panels.
In its brief life in the mid-1980s, the Fiero may never have recovered from a bad first impression. Despite its mid-engine design and lightweight body, the first Fiero was seen as an underpowered performance dud.
GM quickly made improvements in succeeding years, ultimately turning the Fiero into something that actually drove the way its wedge-nosed looks suggested.
But, just as things were getting good, GM pulled the plug after the 1988 model year. Two-seaters are never big sellers, but bad press for early versions of the Fiero - as well as a recall over engine fires - made later improvements moot.
But the Fiero was good enough that it maintains an active fan base even today.

NEXT: 2001 - Aztek