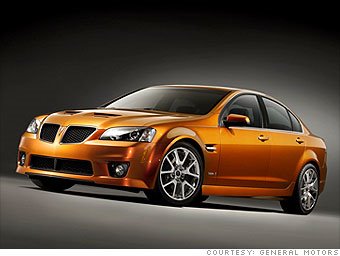 Since a two-seat sports car appeals to too narrow an audience to support Pontiac, GM needed to follow on with some more practical alternatives.
Imported from Australia, the G8 is GM's second attempt to sell a rear-wheel-drive car from its Australian Holden division as a Pontiac. The first was a two-door car sold here as a revived GTO from 2003 to 2006.
In both cases, the cars were big hits with the critics. The G8 is compared, quite credibly, to European luxury models costing many thousands of dollars more. The top-of-the-line GXP version is particularly exciting, offering muscle-car performance in a refined and practical package.
Unfortunately, like the GTO before it, it never was a big seller. Perhaps America's love of V8 performance is simply over, or maybe we just no longer trust Pontiac to deliver it. Pontiac-Buick-GMC chief Susan Docherty blames the lack of marketing money available at overstretched GM.
Regardless of the final cause, a few great products weren't enough to save Pontiac.

NEXT